News & Events
Art and Design Students of SGS Join 12th Vibe Art Exhibition
Edited by Chew Lai Kwan
Tue, 26 Jul 2022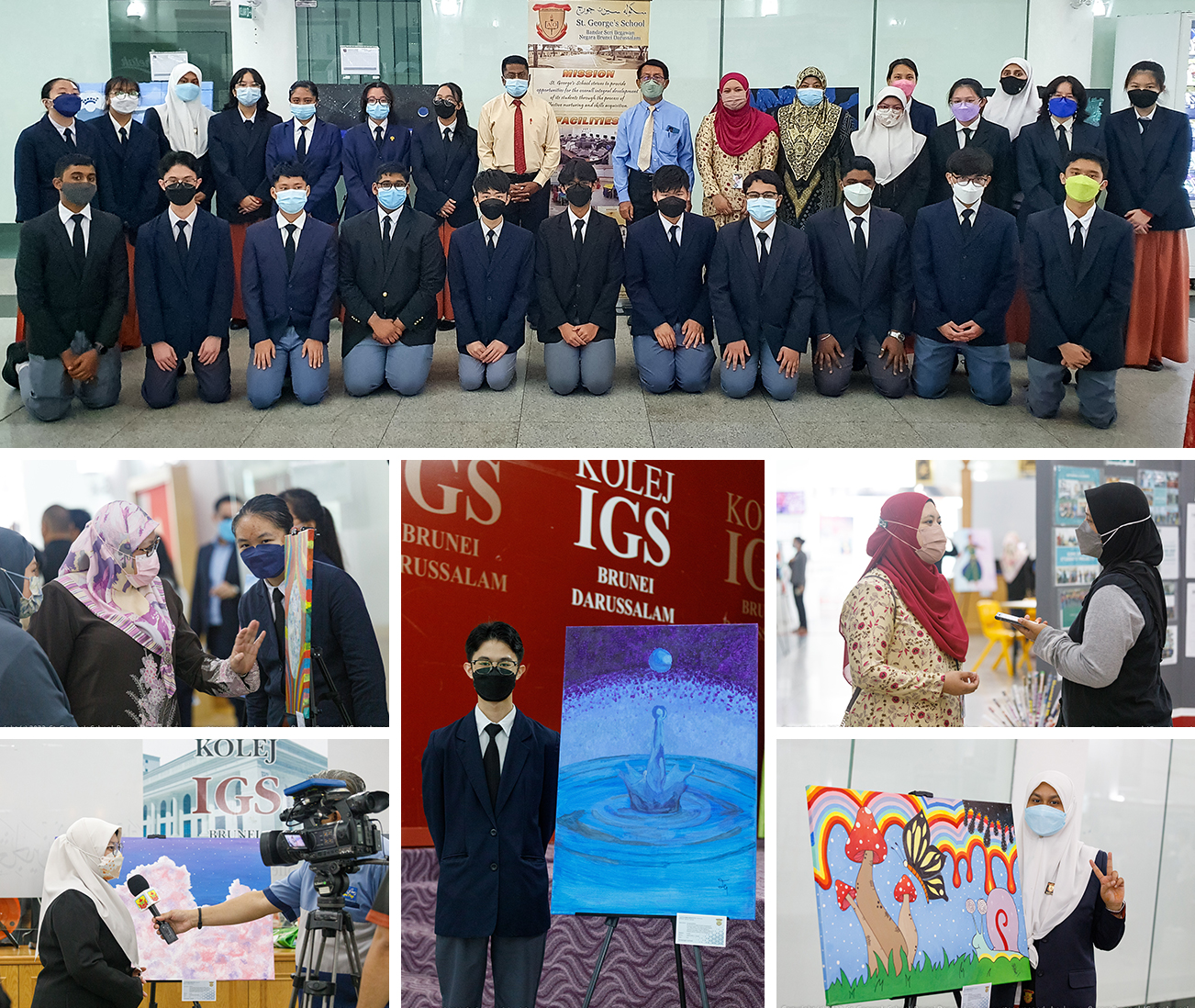 A group of 31 Art and Design students from St. George's School are collaborating in an art exhibition with IGS College from Monday, 25th July 2022. The exhibition is held at IGS College, Kiulap, Bandar Seri Begawan. Cikgu Afiqah Hanum binti Hj Murni is the teacher in-charge.
The exhibition showcases the works of students from IGS and St. George's School. The theme of the exhibition is "12th Vibe". The exhibition is to show appreciation for the hard work of the students and acts as exposure for students to the world of work and professional practice when seeking employment.
This experience of collaborating with IGS College in the art exhibition gives additional exposure to the students of St. George's School, apart from raising their creative potential and broadening their minds towards future events.
*Check out this media gallery by click here
---
PARTICIPANTS LIST
Year 9
Amber Sim Yu Ying
Chhimal Shrestha
Goh Li Ting
Mohamed Hafiz Saboor Nagoor Gani
Year 10
Angellyna Azriel binti Birosleh
Deepen Rana
Elvies Pui Xie Yang
Esther Jayne Mendez Kiok
Liew Zhi Jia @ Windy
Maxine Leigh Manalo Jumao-as
Voon Qi
Wyndee Mae Ucab
Nicholas Wong Sing Wang
Sarah Ehyam Enopia Ancero
Shriborno Mukherjee
Kutty Mohanraj Hari Hara Sudhan
Year 11
Adiba Kamal Orthi
David Azriel bin Birosleh
Jadeanne Ho Shu Ting
Karan Rai
Lim Ren Hong
Lim Sheau Shi
M.S. Giri Dharan
Marq Andrew Tolentino Hizola
Mohamed Waazif Saibudeen
Nur Saffiyyah Bukhairah binti Mohd Sufri @ Nur Maria Saleha
Shreya Gurung
Farah Dhaniah bte Sujalani
Jason Corbin Lamintao Canizo
Mohammad Khwarizmi Nazmi
Sameeha Raza