News & Events
INDUCTION OF SGS LEADERS
Edited by Chew Lai Kwan
Tue, 24 May 2022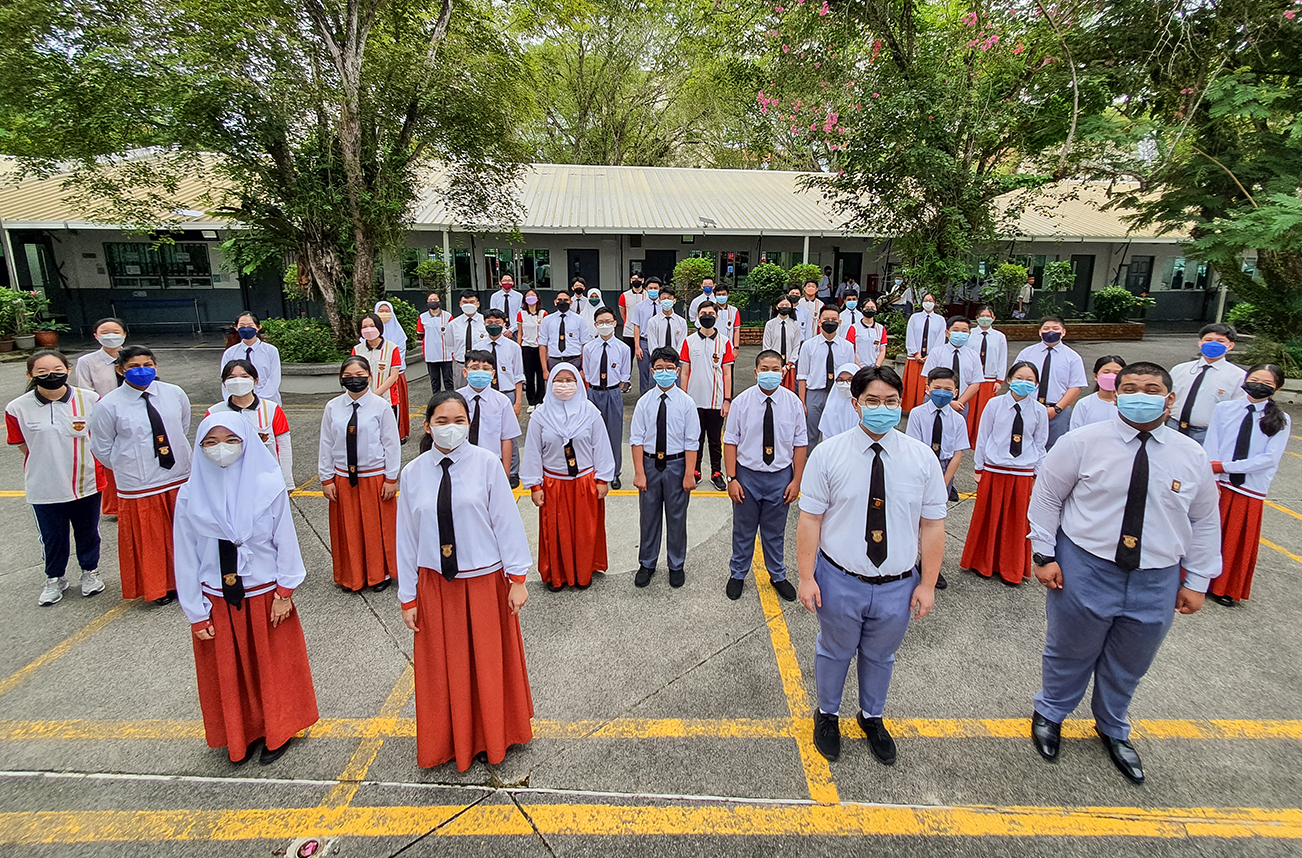 INDUCTION OF NEW SET OF SGS LEADERS
Students become more responsible if they know that they are part of the system, their voices are heard and listened to, and when they are part of the decision-making process.
Monday 23 May saw a momentous event in the lives of a new set of SGS Leaders for they were inducted and presented to the student body. At the induction ceremony they received the symbol of authority as leaders, the SGS LEADERS BADGE.
During the induction ceremony, Mr. Eugene Mendoza reminded the student leaders that being Prefects and Monitors is about being Servant Leaders; to serve and not to be served. Responsibilities include helping the Student Affairs Committee in making sure that the students strictly follow the rules and regulations of the school and administering these without fear or favour. Likewise, Principal Janidi Jingan challenged the leaders to be good role models for other students to emulate, to humbly lead their fellow St.Georgians and to, most importantly, excel academically.
*Check out this media gallery by click here
---
STUDENTS AFFAIRS SECTION
St George's School is pleased to announce this year's Student Affairs officers, Student Affairs committee members and the student leaders. Together we will achieve and together we will succeed.
Advisors
Principal
Deputy Principal
Head of Secondary
Student Affairs Officers
Apiza binti Abdul Latiff
Eugenio V Mendoza
Student Affairs Committee
Binoy Sebastian
Mubarak Hj Ibrahim
N Sheeba
Afiqah Hj Murni
Evelyn Liaw
Dk Rasinah Hj
Zulfadhli
PREFECTS 2022 [SECONDARY]
HEAD BOY
HEAD GIRL
ASSISTANT HEAD BOY
Afiq Hazman bin Agus Sujoko
ASSISTANT HEAD GIRL
Siti Nur'iffatul Wadihah binti Mesli
Mohd Ammar Razif bin Mohd Masyadi Y7A
Wafiqa Ayra Y7A
Nathan Lim Tze Qi Y7B
Shanelle Liew Wen Shan Y7B
Nur Aidil Eddie Zam bin Zohan Y8A
Jennel Sayan Collo Y8A
Afif Hazman bin Agus Sujoko Y8B
Orbit Rai Y8B
Francis John J Ramirez Y9A
Goh Li Ting Y9A
Jed Ng Xiang Zhe Y9B
Nathaniel Silvestre Y9B
Malinda Joseph Y9B
Nicholas Wong Sing Wang Y10A
Nur Farisah Aliah Y10A
Ayan Ahmed Zakai Y10B
Justin Low Guo Qian Y10B
Phoebe Chong @ Chong Xiao Wei Y10B
Darlene Casey J.Namoc Y10B
Liew Liew Y11A
Md Qawi Naqiuddin @ Abdul Qawi Bin Hj Md Shaiful Y11A
J.Kajanefer Y11B
Isabelle Lim Jia Xuan Y11B



MONITORS 2022 [SECONDARY]




Irvince Sylvester anak Nicholas Perait Y7A
Summer Mikaela Yeo Shuxian Y7A
Santino Joachim Domaloan Lemque Y7B
Jasmine Wong Kuan Yue Y7B
Thahim Shahan Shahul Hameed Y8A
Nur Syaurah bte Awg Jalil Y8A
Jamal Limpao Ampang Y8B
Kelzie De Guzman Gonzalez Y8B
Abdul Akid bin Abd Kadir Y9A
Amber Sim Yu Ying Y9A
Eric John S. Morales Y9B
Annie Jenelle Serrano Barawed Y9B
Awang Muhd Zulfadli Basyir bin Awg Abd Razak Y10A
Celine Wong Yuen Qi Y10A
Ho Marial Jia Xin Lejano Y10B
Uziel Allado Galapin Y10B
Lim Ren Hong Y11A
Adiba Kamal Orthi Y11A
Aayun Budhathoki Y11B
Lim Yee Sean Y11B