News & Events
Graduation Day of Year 6 and Year 11
Mon, 25 Nov 2019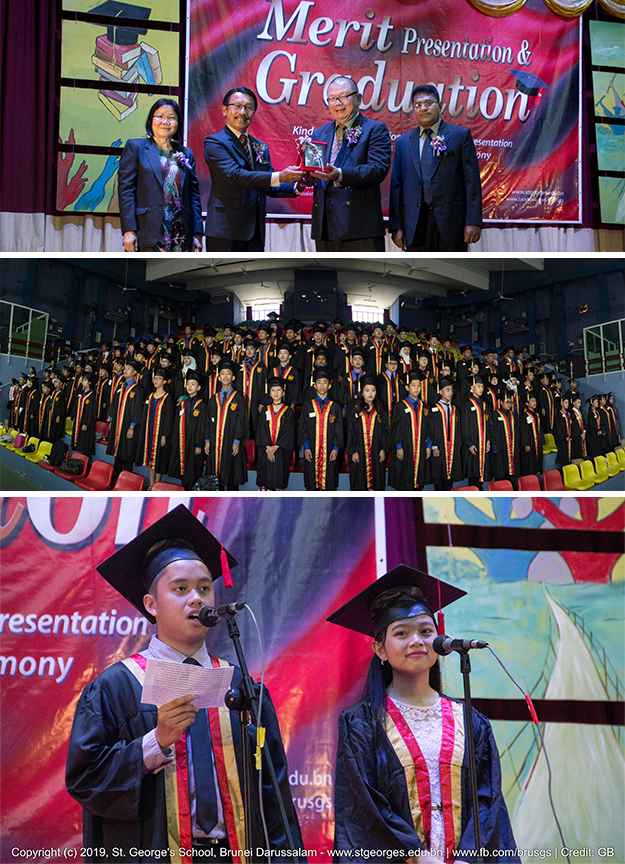 A Graduation Ceremony was held at Pusat Belia on 22 November 2019. It was an occasion to celebrate the graduation of Year 6 pupils and Year 11 students and also to recognize the hard work of those who excelled in their studies at these levels.
Academic Awards were presented to pupils and students who secured the top three positions. Speeches were given by representatives of both Year 6 and Year 11 students to thank the school, teachers and parents. Below is the speech of the Principal.
Principal's Speech:
A very good afternoon and salam sejahtera.
Our Guest of Honour, Mr. Charles Shim Fui Thong, member of School Board of Governors, Mr. NM Mubarak, Deputy Principal, Madam Chew LaiKwan, Head of Secondary, Madam Alice Ting, Head of Primary, Madam Lily Sim, Head of Kindergarten, invited guests, parents and our beloved Year 6 and Year 11 students. It gives me great pleasure to welcome all our guests here today. Thank you for taking your time to be with us on this memorable occasion.
Ladies and gentlemen,
Today is a very special and memorable occasion for our Year 6 and Year 11 students. The graduation ceremony is an eagerly awaited event in the life of every student. It is a time to share memories, celebrate their hard work and academic achievement during their years at St. George's School. Thus, we are keen to make this day a special one and to ensure that this Graduation Day remains in our students' memory as one of their happiest moments.
Learning is a lifelong process and the challenge is ongoing.We, the teachers at St George's School, will strive to ensure our students are equipped with the necessary skills and mindsets that will help prepare them for the years ahead. I am proud that with our dedicated teachers, we are united in sharing the same vision in realizingyour dreams. We are committed in instilling the passion for learning and cultivating good moral, social and cultural values in our students.
To our Year 6 students, my congratulations on completing your primary education. As you are about to embark your secondary education next year, may I share with you what to expect when you are at the secondary level. First and foremost, there will be an increase in the work load as the number of subjects taken will be more. Secondly, the contents of the subjects will also be increased as you progress towards a higher level. Therefore, my advice is to remain focused, listen to your teachers, study hard, complete your homework, participate in extra-curricular activities that are beneficial and be responsible for your own action.
To Year 11 students, today officially marks the end of your days at St. George's School. This will be the last time you leave the school gates as a student as you step out into the world.
At St. George's School you have had the opportunity to learn and grow, and to constantly strive to learn more and know more. I hope that when you do look back on your time at St. George's School, you will do so with fondness, and that when you look ahead, you will see St. George's School as a part of your future.
Graduation should never mean a final goodbye. You are always welcomed at St. George's School, and we look forward to hearing about your personal success. We also hope to continue to engage with you as alumni as you travel forward to new adventures. Always see yourselves as good ambassadors of this school. Never allow selfish interest to blemish theintegrity you have nurtured over the years in this school. Be kind and good to people you meet on your way up. Allow the words of God to guide you as you journey through your life. Think big thoughts and be optimistic in whatever you are doing. Keep striving to always do your best. You are the person who is responsible for your own happiness.
I have borrowed a quote from Steve Jobs that I feel really summarizes my hopes and dreams for you. In his speech at Stanford university 2005 he said:
"Your time is limited, so don't waste it living someone else's life. Don't let the noise of others' opinions drown out your own inner voice. And most important, have the courage to follow your heart and intuition."
I hope your years at St. George's School with the help of outstanding teachers and staff, have given you just that, the courage to follow your own heart and mind.
Ladies and gentlemen,
I would like to thank the parents who are in full strength in attending today's graduation ceremony. It is so encouraging to see parents who are very much involved and play an active role in their child's life. Thank you so much!
Finally, I would also like to thank our Guest of Honour, Mr. Charles Shim Fui Thong, a member of the School Board of Governors, for being able to make your time with us this afternoon.
In closing, I would like to offer my heartfelt congratulations to all graduates upon your success and wish you all the best in your future endeavors. To Year 11 students,as you embark on a new stage in life, we hope you will be able to rise to the occasion because of the values our school has taught you.On behalf of the teachers and students, I bid you farewell and wish you best of luck in your days ahead. I am confident that your time spent at St. George's School has prepared you well for the outside world.
Honourable guests, Ladies and Gentlemen,
It is my pride to present to you the graduating students for the school Year 2019.
BY THE POWER VESTED UPON ME AS THE PRINCIPAL OF ST. GEORGE'S SCHOOL, I HERE BY CONFER YOU GRADUATES. CONGRATULATIONS!
I wish you all the very best, thank you and God Bless.
*Check out this media gallery by click here