News & Events
Kindergarten and Merit Awards 2019
Mon, 25 Nov 2019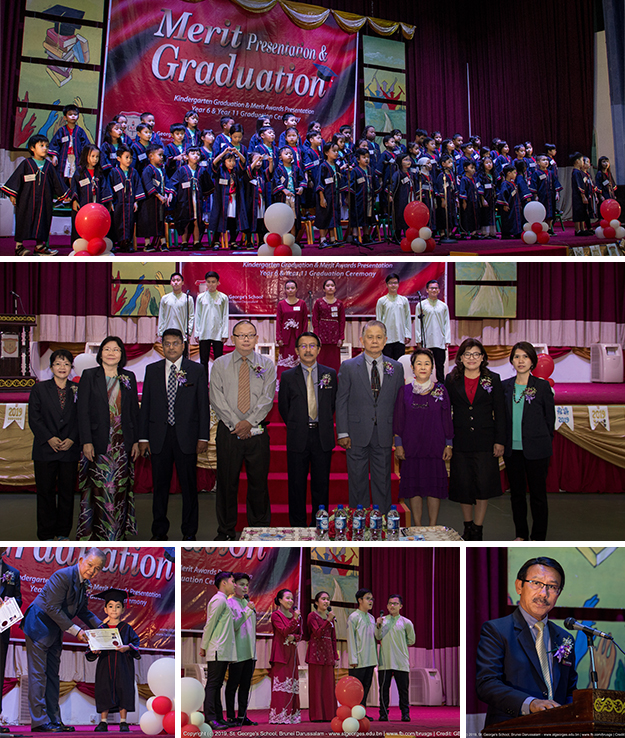 Principal's Speech
A very good morning and salam sejahtera,
Honourable Guest, Mr. Anthony Liew Voon Chiang, Chairman of the School Board of Governors, Mr. NM Mubarak, Deputy Principal, Madam Chew Lai Kwan, Head of Secondary, Madam Alice Ting, Head of Primary, Madam Lily Sim, Head of KG, invited guests, parents and our beloved Kindergarten pupils and students. It gives me great pleasure to welcome all of you here today. Thank you for taking your time to be with us at this memorable occasion.
Honourable guests, ladies and gentlemen,
Celebrating children's achievements at pre-school level is good for their self-esteem. It also teaches them about transitions and completing one of the different educational stages. A Chinese proverb said, "a journey of a thousand miles starts with a single step". The transition phases start from home to pre-school and then to primary school. These are important milestones in a child's development and their success in life.
Today, is a big day for 63 of our KG3 pupils, as they have successfully completed the first phase of their school life. At St. George's School, you have been nurtured, guided and equipped with the necessary skills in preparation for primary education. I am sure you are ready to take on further challenges as primary pupils of St. George's School. I hope to shall see you in Year 1 next year and that you will continue to work hard and to achieve excellence in your studies in the years to come. Congratulations to you all!
Honourable guests, ladies and gentlemen,
Today, we also take this opportunity to present merit awards to our top students from all classes and levels in recognition of their outstanding achievements in academic as well as co-curricular activities, including those representing the school at national or international levels.
At St. George's School, we always encourage our students to challenge themselves intellectually and physically. We take pride and give special emphasis on the achievements of our students by creating a positively competitive environment among the students, thereby making them recognize the value of hard work.
We, the teachers at St George's School, will strive to ensure our students are equipped with the necessary skills and mindsets to prepare them for the years ahead. I am proud that our dedicated teachers are united in sharing the same vision in realizing your dreams. We are also committed in instilling the passion for learning and the strong moral, social and cultural values in our students.
Honourable guests, ladies and gentlemen,
To the Kindergarten boys and girls who are graduating today, let me congratulate you on your achievement and wish you a bright future ahead! Many thanks to our Kindergarten teachers and Assistant Teachers for being able to turn each of our KG pupils with a shy personality into a child full of confidence.
To the merit awards recipients, I hope all of you will continue to pursue your passion in both academic and co-curricular activities. Keep up your good work and aim for the best.
I would like to thank parents who are here in full force to attend today's event. It is so encouraging to see parents who are involved and play an active role in their child's life. It is because of your love and support that your children are here today. Thank you so much!
Finally, I would also like to thank our Honorable Guest, Mr. Anthony Liew Voon Chiang, Chairman of the School Board of Governors, for being able to make his time with us this morning.
Many thanks to our teachers, staff, prefects, class monitors and student volunteers of St George's School. Every one of you has contributed positively in one way or another in ensuring today's event runs smoothly.
Thank you and God Bless.
The Kindergarten Graduation & Merit Awards 2019 was held at Pusat Belia on 22 November 2019. It was an occasion to celebrate the graduation of 63 KG 3 pupils and to recognize the hard work of pupils and students who excelled in their studies and in co-curricular activities at both the Primary and Secondary level.
Academic Awards were presented to pupils and students who secured the top three positions. Primary pupils who did well in 'Pengetahuan Ugama Islam' were also recognized for their achievements. The Co-Curricular Activities Merit Awards were presented to students who were outstanding in inter-school competitions involving athletics, table tennis, swimming, badminton, basketball and chess, and to students who actively participated in school clubs. The Head Boy, Head Girl and their assistants were also presented with Leadership Awards to show appreciation for their tremendous support and hard work throughout 2019.
*Check out this media gallery by click here