News & Events
St. George's School Welcomes West Grove Primary School of Singapore
Mon, 18 Nov 2019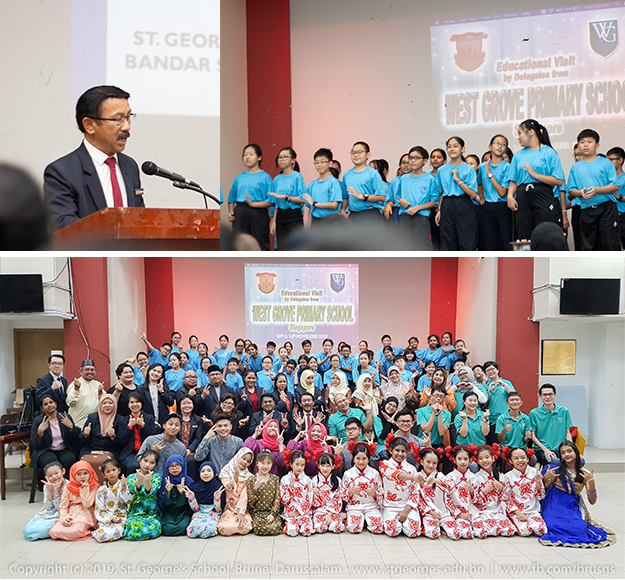 A second educational visit. made possible due to the Immersion Program of West Grove Primary School, took place on 13th and 14th November 2019. Welcomed by St. George's School Principal Mr Janidi Jingan, the delegates, who comprised teachers and Year 5 pupils, were led by their Head of PE and CCA Department, Mr Abdul Wahid bin Badron.
Principal Janidi briefed the delegates on St.George's School; both her past and present environment. They were also shown a video clip on the 80th Anniversary Celebration of the school. In his reciprocal speech, Mr Abdul Wahid thanked the school for hosting them and extended an invitation to St.George's School to their 20th anniversary celebration in 2020. He hoped that this visit would be meaningful and mutually beneficial. It allowed the pupils to look at differences between countries and served as a platform for pupils to remain connected through pupil interaction.
The delegates were warmly treated to a welcoming Indian dance by Swara Sachin Pingle, a Malay dance by Year 3B students and a Chinese Dance by Upper Primary students. The Big 6 Acapella group from Secondary School gave a beautiful acapella performance to the delegates.
Various activities were carried out to involve the pupils of both schools to strengthen the bond of friendship and, to allow them to throw caution to the wind and just have fun. The Science team from the Secondary presented 'Mission to Mars' to the pupils. The pupils were divided into groups together with our Year 5 pupils to construct a rocket prototype. Meanwhile, the Malay team introduced the pupils to some traditional games and cultural dances. Accompanying the delegates around the school for their activities was Mdm Alice Ting, Head of Primary of St.George's School.
Souvenirs were exchanged but, more importantly, the visit brought the two schools closer, in creating a bond of mutual respect, understanding and open communication with each other. As this was not their first visit to St. George's School, it will definitely not be the last for West Grove Primary School as there will be more such visits of friendship to come.
*Check out this media gallery by click here