News & Events
Nature Trip to Katimahar Agripark, Tutong
Mon, 18 Nov 2019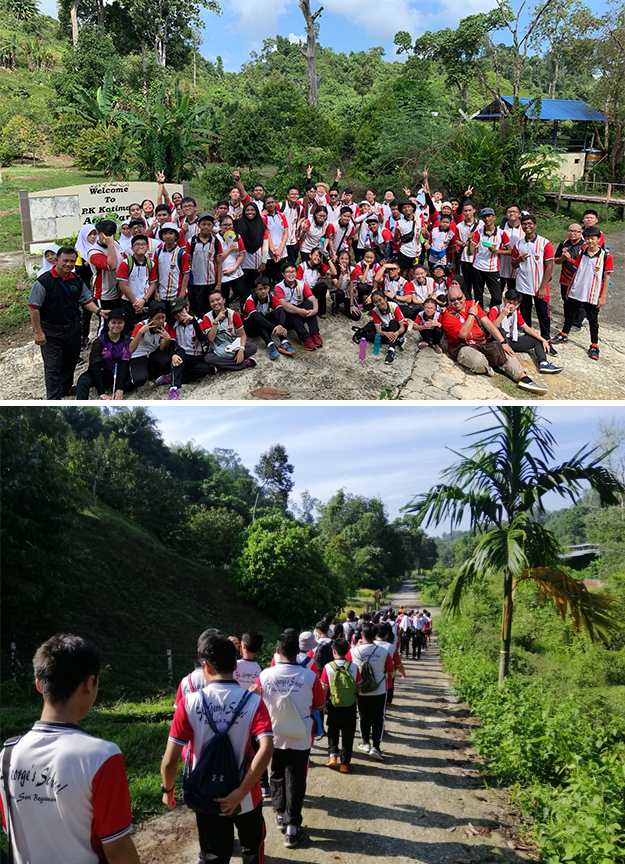 A total of 66 students and four teachers visited the Katimahar Agripark in Tutong on 13 November 2019. The field trip was organized by Teacher Steven Yap, accompanied by me Teacher Aywen Chak, Teacher Apiza binti Abdul Latiff and Balthazear G Henry.
Upon arrival, we were greeted and briefed by the owner of the farm, Hj Zainal bin Hj Safar. We walked along a flat, rugged dirt road and even hiked up a hill to catch a breathtaking panoramic view of Kg Katimahar which appeared mostly green and pleasant to the eye.
Along the way, we also visited an orchard whereby the owner showed us a variety of fruit trees that were fruiting. Each of us had a great time plucking green lime or 'limau kasturi' fruits from the trees. The students also viewed fruit trees that bore star fruits, soursop and jack fruits. Unfortunately, as it was not the fruiting season of longan, rambutan, mango and durian, we were unable to experience nor enjoy picking and tasting these fruits, fresh from the farm.
Throughout the trip, we came across interesting tiny insects 'buzzing' to pollinate flowers. There were fish ponds where the students tried their hands at fishing, and even a crocodile farm. The students also had the opportunity to eat freshly cut sugar cane, a rare experience which was most appreciated.
The farm seemed to be at its infancy stage and I hope it would be more developed in years to come. The students had a wonderful time experiencing being amongst the flora and fauna of the agripark. This nature trip would forever be an unforgettable experience for the teachers and students.