News & Events
Kindergarteners visit Tasconi Pizza
Wed, 16 Oct 2019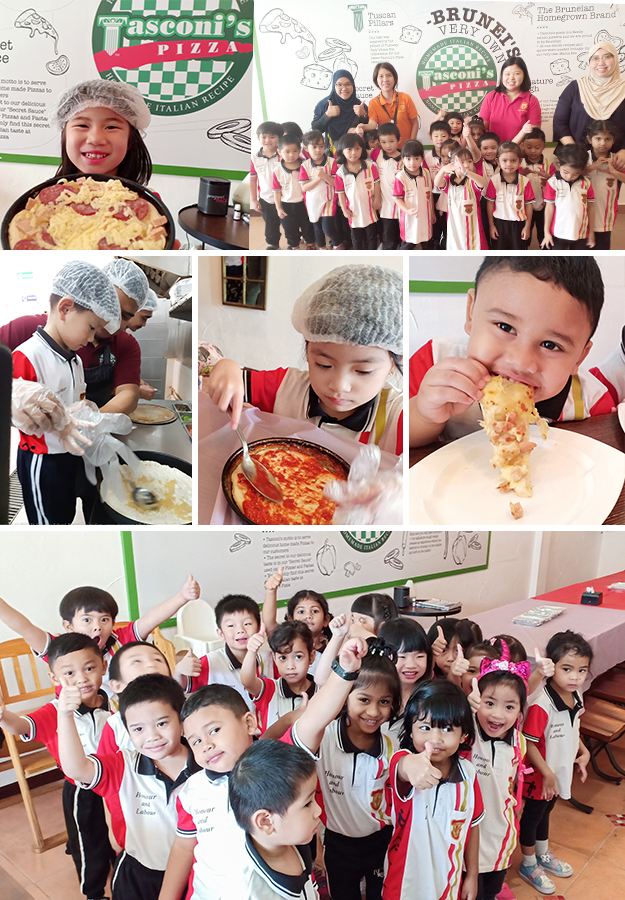 40 pupils from Kindergarten One of St. George's School became little chefs for a day in their visit to Tasconi Pizza, Berakas. Upon arrival, the kids were greeted by the manager and staff. This was followed by a simple briefing of how pizza was made. Then, they were divided into groups and visited the kitchen to experience the making of pizza first-hand. Before entering the kitchen, they washed their hands,and put on plastic gloves as well as a hair net for hygiene purpose.
In the kitchen with the large pizza dough, the staff showed the children how to 'massage' the dough and spread the topping. The little chefs had their hands full with massaging the dough and spreading the pizza topping. Lastly, the completed pizza was put into the oven for baking.
The little kindergarteners were eager to be a chef. Hence, to add on more to the experience, each of them was provided with some dough in a mini pan and plates that contained toppings for the pizzas. They were quick-witted to familiarize themselves with the pizza toppings which included two types of sauces, diced chicken luncheon, pepperoni and cheese. After completing their tasks, the staff baked all the pizza for the kindergarteners before packing each pizza in a box. Each kindergartener was also served a packet drink.
The visit ended with a group photo and the little chefs went home with their box of pizza which they helped to bake. This visit indeed gave an insightful experience for them in preparing pizza at an early age.
*Check out this media gallery by click here