News & Events
SGS Emerges First Runner Up in First Regional Faraday Challenge
Wed, 9 Oct 2019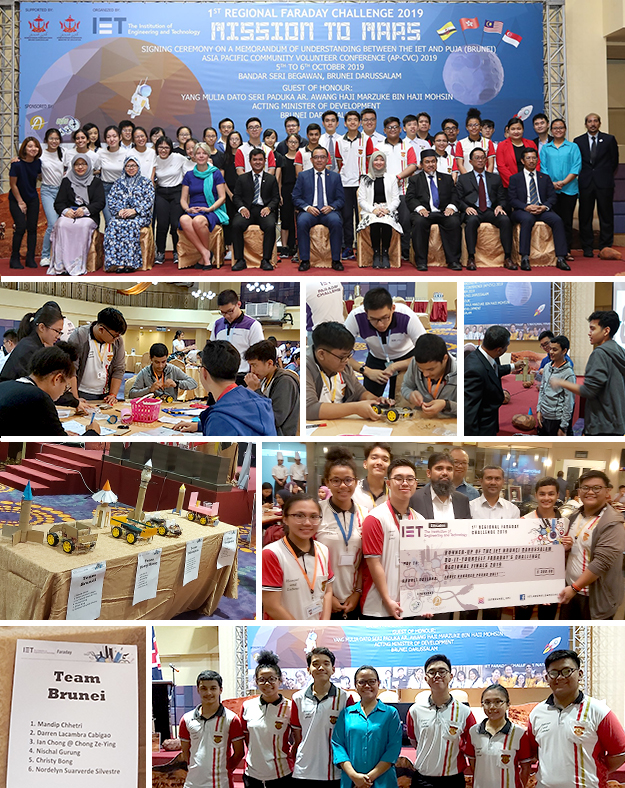 The Institution of Engineering and Technology ( IET ) Brunei Darussalam Local Network ( LN ) hosted the first Regional Faraday Challenge 2019 on October 5, 2019. This took place in Aman Hills Hotel in Jalan Muara. It was organized by IET LN Young Professional Section ( YPS ) in collaboration with the Oil and Gas Discovery Centre ( OGDC ).
Four teams, comprising six students each, represented their own country to compete in designing and building a prototype with the theme 'Mission to Mars'. The participating countries were Brunei, Hong Kong, Malaysia and Singapore. The objectives were to design and construct a rocket which will transport supplies via Earth orbit to Mars, as well as building a system to transport their rocket to launch site.
Under the guidance of Teacher Gay Marie Frando Laurente, six Year 10 students of St. Georges School, namely, Christy Bong, Darren L. Cabigao, Ian Chong, Mandip Chhetri, Nischal Gurung and Nordelyn S. Silvestre, represented the Brunei team and emerged first runner-up of the first Regional Faraday Challenge 2019. The Brunei team won a prize money of GBP 300.00.
The other participating schools were Carmel Pak U Secondary School of Hong Kong, SMK Batu Bintang Secondary School of Malaysia and Raffles Girls School of Singapore.
By participating in this competition, the students were able to develop their skills in problem-solving through Science, Technology, Engineering and Mathematics ( STEM ). The students also further strengthened their teamwork and communication skills.
*Check out this event media gallery from the IET official Facebook Page: Photos | Video Highlights