News & Events
32nd Annual Novelty Games & Primary Sports Meet of St. Georges's School
Tue, 6 Aug 2019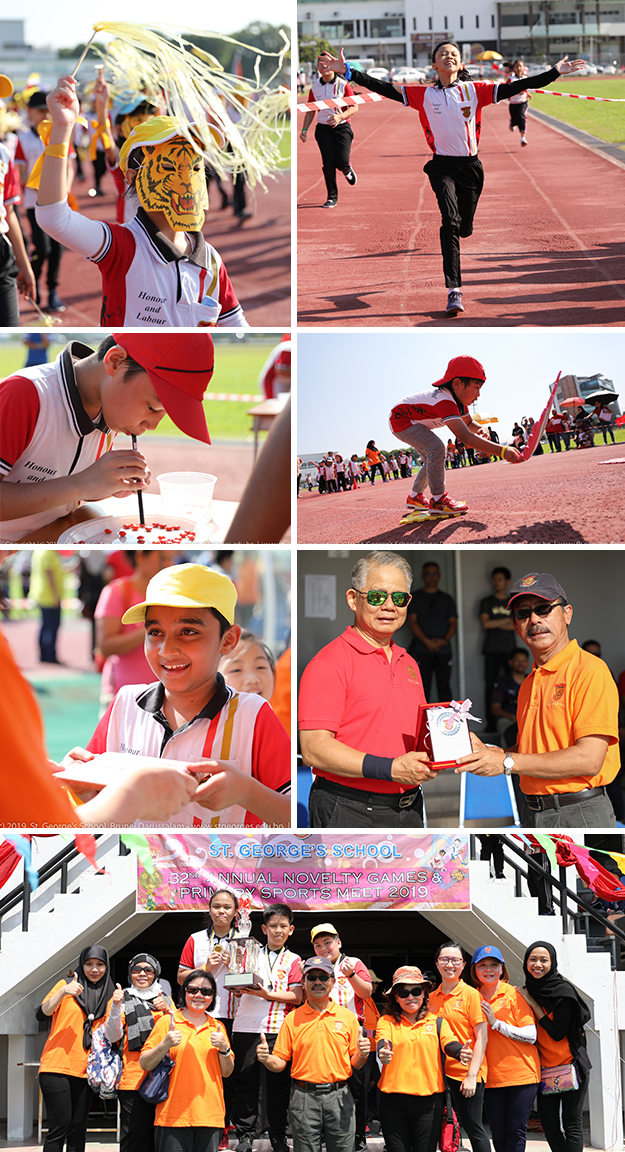 Saturday, 3rd August 2019 was an exciting day to remember, especially for the Kindergarten and Primary pupils of St. George's School. The 32nd Annual Novelty Games & Primary Sports Meet was once again held at Stadium Kebajikan, Berakas, much to the delight of parents and pupils who participated in the meet.
Guest of honour, Mr Anthony Liew Vun Chiang, Chairman of the School Board of Governors, officially opened the sports meet. Principal Janidi Jingan, in his welcoming speech, informed that the primary objective of the school in organizing this event was to bring fun to pupils and to give awareness of the importance of participating in physical activities outside of studies. He stated that physical activities help make the body healthy and fit, and through sports, mental and physical strength are gained. The Principal also said that the school has always believed that extra-curricular activities are an important part of every student's life, especially during his or her early academic years. Emphasis is also given to the overall growth of the students, which includes their physical and intellectual development. He informed that the school could lay a strong foundation for our students and see them perform well in the spheres of life. He also urged all parents to support the school's co-curricular activity programs by encouraging their children to join and choose a variety of physical activities made available in the school.
Various types of tele-matches were held for the Kindergarteners and Primary pupils. It was indeed an exciting time for the kindergarteners as they raced against each other for the coveted prizes. The kindergarteners ran through courses set by their class teachers. There were the Obstacle Course, The Zig-Zag Ball Relay, The Hula Hoop Skipping race, the Hula Hoop Zig-zag race and The Mat Run Relay. The Primary pupils too ran the novelty games course with Run, Waiter Run, Ring the Cones, Tin Can Stack Relay, Straws Chocolate Relay, Skip & Squeeze, Ping Pong Ball Relay, Noodle Dribble Relay, Bow Legged Ball Race and Mencari Benda Tersembunyi.
Included in the program was the Parents Race which saw some very sporting parents participating.
The track and field events saw both boys and girls competing in the 50 meters, 100 meters, 200 meters and the 4x100 meters relay. Each athlete gave his or her best in the pursuit of the gold medal.
As the meet drew to a close, Red House won the best March Pass team whilst the Overall Champion of the Sports Meet was Yellow House.
It was a fun-filled day for everyone but more so for the kindergarteners and primary pupils. Prizes were won, speeches were given, losers were good-sports and winners were celebrated.
St. George's 32nd Novelty Games and Primary Sports Day was indeed an exciting and memorable one.
*Check out this media gallery by click here