News & Events
KG Dental Hygiene Week
Wed, 26 Jun 2019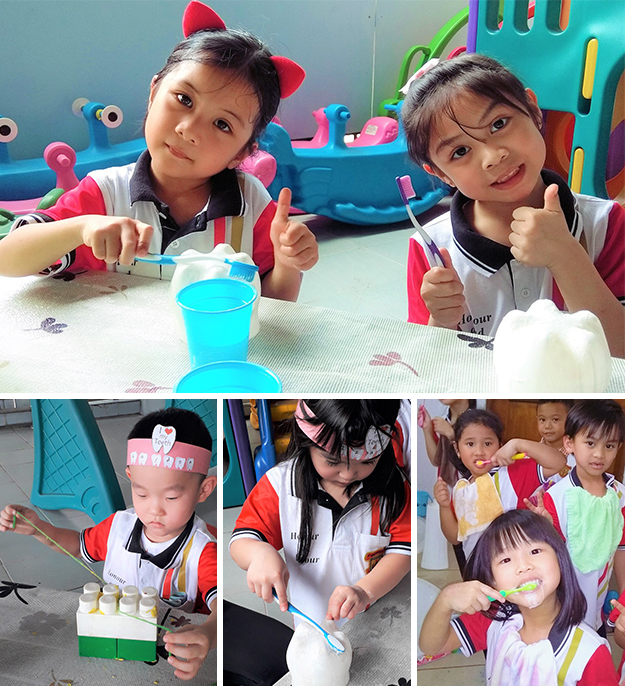 Learning and cultivating proper dental hygiene from a young age is important in a child's life. With this in mind, the Kindergarteners of levels 1, 2 and 3 were taught to floss and brush their teeth by their teachers. This learning activity was conducted from 19 June until 22 June 2019 at the Kindergarten school.
The pupils brought their own dental kit. They were shown the proper way of brushing their teeth and were encouraged to brush their teeth after their snack time, under the guidance of the teachers. They also engaged in a sing a-long of the Tooth-brushing Song, which would allow them to brush their teeth for an appropriate length of time
In the classroom the pupils learned the importance of keeping good oral hygiene as well as ways to prevent tooth decay. They learned to eat healthy food for strong teeth and bones too.
On Saturday 22 June, the pupils participated in a few outdoor activities related to flossing and brushing their teeth. Apart from that, they also had fun creating a poster which symbolized the Dental Hygiene Week. They were enthusiastic to take part in each activity and enjoyed creating the interesting art and craft items.
At the end of the lesson, each of them brought home their unique Tooth craft work to share with their parents.
*Check out this media gallery by click here