News & Events
iRead Home Reading Programme Takes Off at St. George's School
Wed, 19 Jun 2019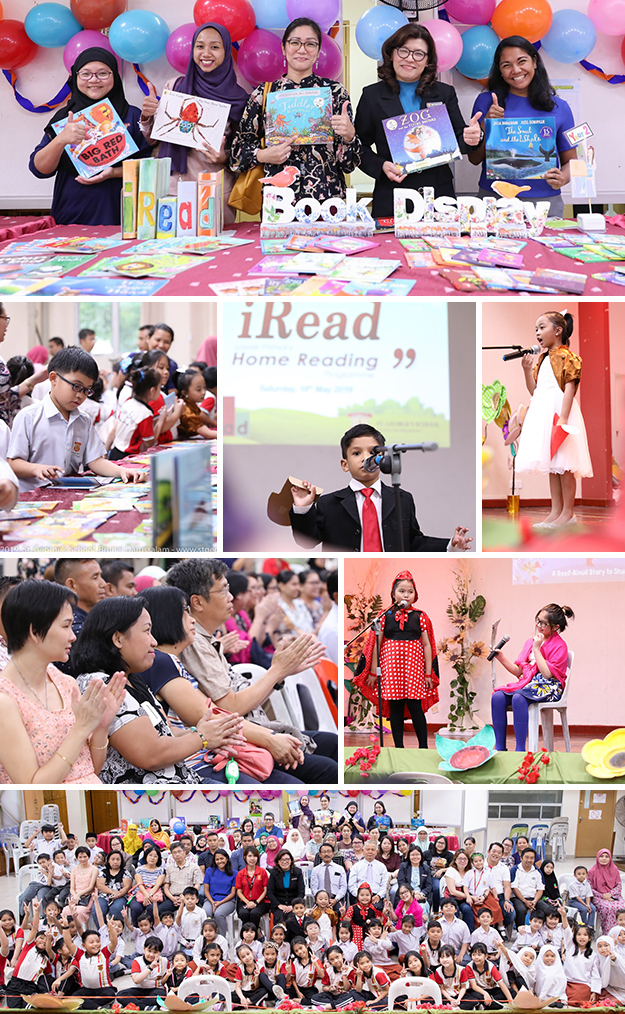 Poor literacy limits opportunities for a student, not only at school, but throughout life. Without a basic foundation in literacy, children cannot gain access to a rich and diverse curriculum. With this in mind, St. George's school has adopted a systemic reading approach with fun and multisensory teaching in classrooms. Spearheaded by Mdm Alice Ting, Head of Primary School, the Lower Primary iRead Home Reading Programme took off to a great start on 18 May 2019 with a grand launch at the Parish Hall in the presence of Mr Anthony Liew ,Chairman of the School Board of Governors, the Principal Mr Janidi Jingan, invited guests, parents, teachers and students.
In her speech, Mdm Alice Ting informed that the iRead Home Reading Programme is an extended planned home reading programme whereby parents read to their children at home. A wide range of age-appropriate reading books is prepared for students to bring home on a weekly basis. It is hoped that this programme will help students to become confident and independent readers. Parents, by supporting this early literacy initiative, will give their children a head-start in developing good literacy skills, which will act as a catalyst towards good communication and interpersonal skills, apart from ensuring improved academic results.
In his address, Principal Janidi Jingan noted the importance of cultivating a good reading habit from a young age. He thanked Mdm Alice Ting and her team for their hard work in making the programme a reality and for its successful launch. The programme included storytelling items by three students. Syed Muhammad Areeb Abdullah of Year 1 excitedly told the audience about 'The Gingerbread Man' while Venice Gabrielle Santos, a Year 2 student, eagerly shared her story of 'The Stork'. 'The Little Red Riding Hood', told enthusiastically by Elaiza Joy Abordo of Year 3, kept the audience glued to their seats. At the end of the programme, parents were invited to view the books that were on display.
Success is measured in many ways. Undeniably, reading is a gateway to future success of a student... in school and in life. With this in mind, St. George's School has introduced the iRead Home Reading Programme as it is critical to start early if children are to develop the skills they require to be successful in the future.
*Check out this media gallery by click here