News & Events
An awesome event ever at St. George's School!
Sat, 26 Nov 2011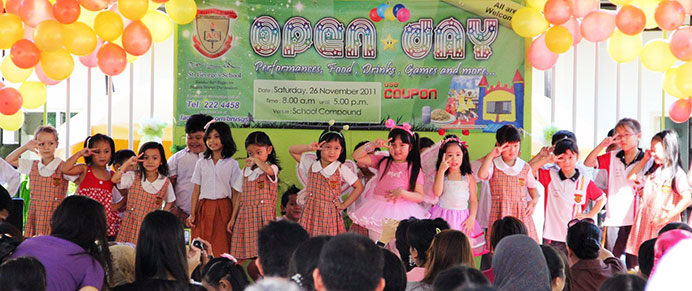 St. George's school conducted the Open Day on 26th November 2011, it was more a sort of "fun fair"!! The objective of the Open day was to foster close relationship between teachers, parents and students. It contained a mixture of attractions including a Variety show, Fancy dress, Amusement games, Food and Drink stalls, Book fair, Jumble sale, Lucky draws and Car Booth sale.It was open to Parents and public to operate the booth on prior registration. Coupons were used for buying things around. The karaoke was open to the public and the Varity Show was one of the salient feature of the Open day. The Young and the old participated excitedly with so many talents to show off. The favourites were the St. Georges' secondary boys dancing, the kindergarten shows and the delicious food sold at Rajas and the Big Papa's stalls.
Students, parents and visitors were having a splendid time, some of them returned home with fabulous prizes won on lucky draws. Not to miss, was the massive bouncer at the entrance. Students and visitors never grew tired of bouncing on it!! It was an awesome event to wrapup the year 2011. All's well that ends well.
*Check out this event gallery by click here.