News & Events
Kindergarten First Day School
Fri, 9 Jan 2015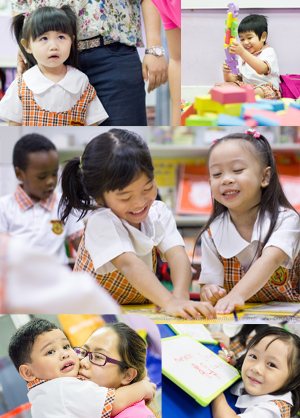 The first day of kindergarten is the busiest day for teachers of kindergarten! A roomful of active excited little minds of Kindergarten 3, anxious and thrilled kindergarten 2 children, crying, wailing and just schooling kindergarten 1 playgroup, is what the first day looks like!! St. Georges School reopened school for the academic year 2015, on 8th January 2015.
For kindergarten 2 and 3, back-to-school time inevitably brings many changes: the first day of new classrooms and new teachers. Joy to be back yet a little restless was the reaction of most of the students. There was no formal teaching; students chose to play and learn with the different educational toys around.
Kindergarteners 1, new to the "school experience" are more challenging. But this is not new to the teachers and every year begins like this. An experience of mixed feelings from excitement to anxiety for all. Over the years teachers have learnt that if a teacher is excited and confident, child will be, too. So, teachers displayed excellent creative- assertive techniques to calm down wailing children and comfort the sobbing ones. Anxious parents stood by the tinted windows to see how children accept the new environment; some even captured them on their mobile cameras. These days make unforgettable memories for all.
The first days are very perplexing and tiring for teachers, but standing firm and staying committed makes a great rewarding year for a teacher.
*Check out this event gallery by click here.